Odd Ant Out is The 10th Ant and Aardvark Cartoon It was Released On April 28th 1970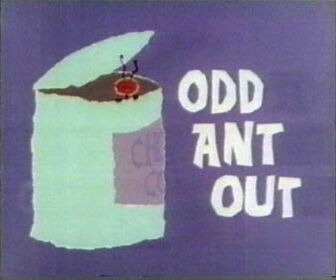 The Green Aardvark Returns Looking for the Ant Along with the Blue Aardvark!
The Aardvark Is Seen Looking For Food Then He Breaks the 4TH Wall By Asking While he is Talking to them The Viewers His Stomach Is Talking to Him
The Green Aardvark Comes And A Truck Labeled Jiffy Market Comes by Then Suddenly the Two of them Are In Shock. After That They Start Chasing The Can In A lot of Attempts Like A Boulder a Crusher a Train and More! It Ends with The Blue And the Green Aardvarks Defeat Charlies Cousin says if He is Alright Down there And He is Alright But He is All Covered In Chocolate
Characters
Edit
Aardvark
Green Aardvark
Minor Characters
Edit
Charlies Cousin
Charlie Ant

Jiffy Market Driver [Not Shown]
Last Appearance of The Green Aardvark
Only Appearance of Charlies Unnamed Ant Cousin
IRONY They Should Had Opened The Can with the Can top Instead of a Wild Goose Chase Around the Cartoon
This Cartoon Breaks The 4TH Wall
Only Time Which the Ant Appears in the End of a Ant And Aardvark Cartoon And when he Only Has One Line of Dialogue
Hello While Im Talking to you My Stomach is Talking to Me
CHOCOLATE COVERED ANTS!
Are You Alright Down there Ant Cousin *Chuckles*