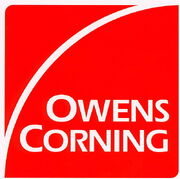 Owens Corning Corporation is the world's largest manufacturer of fiberglass and related products. It was formed in 1935 as a partnership between two major American glassworks, Corning Glass Works and Owens-Illinois. The company was spun off as a separate entity on November 1, 1938. However, major medical liabilities due to the company's use of asbestos as a fireproofing agent led to the company's Chapter 11 bankruptcy in 2000. The company emerged from Chapter 11 in October 2006.
Since the 70s, the Pink Panther is the main mascot of this fiberglass company.
Ad blocker interference detected!
Wikia is a free-to-use site that makes money from advertising. We have a modified experience for viewers using ad blockers

Wikia is not accessible if you've made further modifications. Remove the custom ad blocker rule(s) and the page will load as expected.