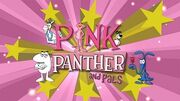 Pink Panther and Pals is an animated television series based on the classic DePatie-Freleng Panther shorts from the 1960s, produced for Cartoon Network by Rubicon Studios in association with MGM Television. The show premiered on Cartoon Network on March 7, 2010 at 7:30am, presented in both HD and SD. The series had its UK premiere on Boomerang on April, 19 at 4pm. The show is composed of two seven-minute Pink Panther shorts with a seven-minute Ant and the Aardvark short in between. As of January 2012, Pink Panther and Pals is shown on Boomerang (USA). The Donkey or Horse Named Hoarse Appears Originally Appearing In Some Pink Panther Cartoons
Ad blocker interference detected!
Wikia is a free-to-use site that makes money from advertising. We have a modified experience for viewers using ad blockers

Wikia is not accessible if you've made further modifications. Remove the custom ad blocker rule(s) and the page will load as expected.